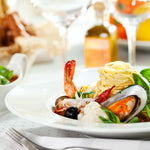 Say Yes to Seafood Lunch Ideas
Seafood is often seen as a dinner-only sort of meal. The truth is, seafood is always an excellent idea for lunch, too, because:
Fresh seafood is both flavorful and nutritious

Seafood is packed with protein, making it an excellent midday meal

Seafood can be enjoyed on the go from many restaurants
Say Yes to Seafood Lunch Ideas
Seafood is rich, filling, and flavorful - the perfect stuff for a nice dinner party out on the town with family and friends. However, when you're in South Florida and you're surrounded by fresh, locally-caught seafood, there's never a bad time to enjoy what the gulf and the Keys have to offer. The next time you have a craving for shrimp, fish, crab, or any other sort of succulent seafood in the middle of the day, don't hesitate. Stop by Billy's Stone Crab Seafood Restaurant for a delicious meal that you can enjoy in a luxurious dining room that overlooks the sea or that you can even take with you on your boating adventures so you never have to miss a moment of fun in the sun.
Why Does Seafood Make a Good Lunch?
All too often, the richness of the best seafood recipes is saved for dinnertime outings, when family and friends gather together to unwind after a long day. However, seafood definitely belongs on your lunch schedule now and again, too. Why? Simply put, seafood is delicious, especially when it's fresh-caught and cooked by an expert chef who knows how to bring out the best in Florida's local cuisine. Generally, seafood is packed with healthy protein, which makes for a tasty, filling lunch that's fast to cook and easy to take on the go. Nourishing meat from stone crabs or a filet of fresh, catch-of-the-day fish offers you the fill-up you need while treating your taste buds to a little luxury that'll lift your mood and make your midday meal something worth really remembering. In short, seafood lunches can be a healthy meal that's full of flavor.
A Menu to Remember
For many people, "stopping for lunch" often means stopping in for a quick bite of fast food or grabbing a sandwich to go. However, when you're in South Florida and you're surrounded by dozens of restaurants offering fresh, delicious seafood for lunch, your lunch could be so much more enjoyable. At Billy's Stone Crab Seafood Restaurant, we're here to ensure every guest is well-fed on delicious, fresh, and locally-caught seafood when lunchtime rolls around. Our menu includes a wide range of delicious seafood options, including:
Seasonal stone crab claws

Alaskan king crab legs

Fresh fish - snapper, salmon, grouper, and a catch of the day, all locally caught and prepared in a variety of ways

Locally-caught gulf shrimp

Fresh sea scallops

Oysters

Florida lobster
Each of the seafood items on our menu is memorable because they're all fresh. Though buying domestic is a bit more expensive in the long run, fresh-caught domestic fish are the most flavorful option for restaurants in our area, and so we're dedicated to buying fresh from local fishermen and trappers each and every day.
Our passion for seafood is unrivaled, and our creative cooks have found a wide range of ways for lunchtime guests to enjoy the unique flavors of the gulf when visiting our waterside dining room. Some of these include:
Salads

New England style chowders

Baskets of fried fish, shrimp, scallops, and more

Sandwiches and po'boys

Tacos

Fish and shrimp pasta

Specialty seafood entrees such as coconut shrimp and Francaise
If you're feeling the year-round summer heat, Billy's is here to treat you with delicious cold dishes as well, to give you the flavor of the sea while helping you cool off a bit during your lunch stop. Clams on the half shell, shrimp cocktails, smoked fish spread, and more make the perfect waterside lunch and can easily be taken and enjoyed on your boat if you're looking for lunch to go.
While Billy's Stone Crab Seafood Restaurant is, of course, fresh-caught seafood recipes, those looking for something a bit less oceanic for lunch won't leave disappointed. Alongside our extensive arrangement of seafood creations, we offer:
Pasta with chicken and vegetables

Potatoes

Vegetable dishes

USDA filets, New York strips, and bone-in ribeyes

Fried chicken baskets

Chicken wings and other hot appetizers

An assortment of salads
Whether you're looking for a taste of local delicacies such as stone crab claws, a filling deep-sea dish with grouper or a light salad, or the comforting taste of fried chicken, you're sure to find exactly what you're looking for. We have a great deal of variety and unique flavors on our menu, but you can rest assured knowing that no matter what you order, you're in for a delicious lunch.
Why Order From Us?
There are dozens of places to eat around Hollywood Beach, so why should Billy's Stone Crab Seafood Restaurant be your top pick? The competition may be fierce, but when it comes to our lunch menu, we are unbeatable. We've been in the business of feeding our community with fresh and expertly cooked fish since 1995, and have been fishing up the freshest catches in the Keys for even longer. Over the decades, we've stayed completely true to our core value of providing customers and diners with nothing but the best locally-caught meals. We catch our own fish, and they're delivered straight from Marathon and Summerland Key to our restaurant to your plate in under 24 hours.
We also strive to pair our delicious food and comfortable, upscale atmosphere with convenience, especially during those quick lunchtime stops. While our restaurant is always open for lunch, you can also choose to enjoy your meal right in the seafood market if you're looking for a quick bite. Alternately, our cooks can also pack lunches for boating adventures and fishing trips you might have planned, meaning you'll stay well-fed while you're out on the water without cutting your plans short. Fresh, delicious food on your schedule - that's what it's all about.
Freshness Matters
When it comes to seafood, you'll often find culinary experts talking extensively about how fresh (or not fresh) a dish is. That's because the freshness of the seafood is of utmost importance when it comes to the overall flavor of the final dish. Fresh-caught fish has a lighter, cleaner flavor than frozen seafood, and acts as the perfect foundation for chefs to build their masterful seafood recipes on. You deserve a lunch that's both filling and tasty in return for your hard-earned money. Ensure you're getting nothing but the best by choosing to dine at a restaurant that prides itself on serving nothing but fresh, locally-caught seafood year-round.
Have Lunch With Us
The next time you have a craving for fresh, juicy shrimp, clams, scallops, crab claws, or other local seafood recipes, come dine with us at Billy's Stone Crab Seafood Restaurant. We're here to ensure every lunch is a delicious one, with an extensive menu packed full of protein pulled straight from the gulf within hours of your order and numerous ways to enjoy your meal. Whether you're ready to settle down for a relaxing midday meal in our window and enjoy the view from our floor-to-ceiling windows or you prefer to have your lunch packed for easy transport on your boat for an upcoming deep sea adventure, we're here to ensure you leave satisfied. We open at noon for lunch, which continues until 5PM local time. Call us at 954-923-2300 for more information on our menu, our fishing, and more.
Featured Image: Ryzhkov Photography/Shutterstock