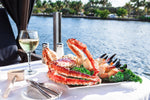 Setting the Scene: Outdoor Dining
Waterside dining in South Florida is a unique experience because it brings together incredible views with equally incredible views.
Diners may spot local wildlife while dining seaside

Food is local and fresh, meaning superior food and flavors

Year-round warm weather makes outdoor dining a comfortable experience
Florida is a state known for many things, but among the most noteworthy boasts are its beautiful ocean views and fresh, flavorful seafood. Year after year, locals and tourists alike enjoy some of the best seafood in the United States alongside the most stunning views at the state's many waterside restaurants located along the gulf coast. Waterside dining in south Florida, complete with the sound of crashing waves and the flavors of the tropical gulf, is simply hard to beat. It brings together everything that people love the most about outdoor dining - comfort, views, good food, and most importantly, good company.
Waterfront Restaurant Views
You can get delicious food almost anywhere in Florida because nearly all restaurants have access to fresh-caught seafood all year long. However, what you can't find just anywhere is the perfect view to complement your meal. Alfresco dining remains a popular option for diners along the gulf shore year-round because nothing quite beats the crash of the waves, the smell of the ocean air, and the breeze coming in from the shore while you're enjoying good food and great conversation with your family and friends. 
For many, the promise of spotting wildlife during a meal makes outdoor dining an even more rewarding experience. The state's warm, tropical coast is home to a wide range of interesting and unique wildlife. Imagine enjoying a plate of fresh stone crab claws and spotting a dolphin - or a whole group of them - arching along the waves, chattering amongst themselves, or spying a manatee bobbing along in the warm water. Pelicans have also been known to appear at outdoor restaurants from time to time, along with several other types of local wildlife. All of this can be enjoyed from a comfortable outdoor dining area, giving you the wildlife encounters you want without risking an unwanted encounter with the gulls.
Aside from the potential of spotting fun wildlife, the view of the horizon is enough to make waterside dining in Florida absolutely unbeatable. Lunchtime comes with azure blue skies that meet the deep blue of the ocean. At the same time, dinner dining allows guests to enjoy elegant outdoor lighting or, if you're early enough, a view of a spectacular sunset, a blend of gold, orange, red, pink, and purple that heralds the end of another day of fun in the sun.
Restaurants in many states offer outdoor dining options, but restaurants in Florida have one big advantage over the rest: the climate. The majority of the gulf coast stays quite warm year-round, meaning you can enjoy a waterside meal throughout the year without worrying about the chill. When family members or friends come to visit for the holidays, you can take them out for a meal by the sea without worrying about their comfort - the warm tropical air and the coastal breeze will take care of that.
Fresh Seafood
Though the view is imperative to a good waterfront dining experience, no outdoor meal is complete without fresh, delicious food. Whether it's shrimp cooked in a rich, buttery sauce or stone crab claws cooked simply and served with a side of special house-made mustard sauce, a seafood meal is an ideal way to round out your vacation or dinnertime outing.
In the culinary world, there are few absolute rules when it comes to flavor because everyone's taste buds are unique. However, there is one constant rule that all passionate cooks adhere to: fresh is always better. That's especially true for seafood, regardless of what type it is. This is yet another area in which waterside dining along the gulf coast and in the keys stands out from other dining experiences. When you have a delicious filet of flounder or a pile of stone crab claws on your plate and you're seated right beside the ocean they were fished from, you'll have no doubt that the meal you're enjoying is completely and utterly fresh. The reason Florida cuisine is so remarkable is because restaurants can buy fresh shrimp, crabs, fish and mussels daily from local fishers and trappers with complete ease. This gives chefs the ideal foundation for building delicious, unique seafood dishes that are then served up at your table.
The proximity to the sea also gives restaurants throughout the area the opportunity to take advantage of seasonal catches such as stone crab claws, one of the state's most popular delicacies. These claws may only be harvested from mid-October until May, and they must be prepared and cooked the day they're caught. By working alongside fishers and trappers, cooks get the best of the batch when seasonal catches of all types come around, meaning that you ultimately get the best, freshest dish possible.
Fresh-caught, fresh-cooked seafood is unbeatable when it comes to flavor, but that's not all that it has to offer. In addition to clean, fresh flavors, eating fresh food gives you the opportunity to indulge in true local cuisine. Shellfish and domestic fish that are caught locally not only taste better overall, but also give you a better insight into what the area has to offer and what long-time residents choose to eat, making it an ideal opportunity for tourists to truly connect with the local culture during their vacations and for locals to enjoy long-time favorites.
Enjoying the Outdoors in Comfort
Perhaps the only potential drawback of dining outdoors in Florida is the somewhat frequent possibility of rain. In the tropical environment of south Florida, sudden downpours are not uncommon. The rain keeps the scenery lush and green and provides essential moisture to plants and animals throughout the state. However, a downspout also has the power to ruin a dinner if guests at a restaurant are caught off guard. Luckily, long-time restaurant owners in the area are highly prepared and go to great lengths to keep diners dry, safe, and warm regardless of the weather.
For some restaurants, this may mean bringing guests indoors for their meal. However, that doesn't always mean you have to miss out on the beautiful waterside views. Establishments such as Billy's Stone Crab Seafood Restaurant invite in breathtaking views of South Florida, rain or shine, via the use of huge floor-to-ceiling windows. Even when seated indoors, diners will have the opportunity to enjoy the beautiful outdoor scenery, observe boats cruising nearby, or the occasional appearance of waterfowl and other wildlife. 
A Waterfront Experience to Remember
Treat yourself to a touch of luxury the next time you're looking for a delicious dinner in South Florida by pulling your boat up to our dock and stopping in for lunch or dinner at Billy's Stone Crab Seafood Restaurant. We are an establishment dedicated to offering guests nothing but the best in terms of ambiance, views, and, of course, seafood. By offering only locally-caught fish, shrimp, and crabs, Billy's keeps the standards high so every guest can enjoy their oceanside meal from beginning to end. Contact us to learn more about our food, our fresh seafood market or to make reservations today.