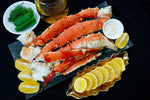 Best Wines to Pair with Stone Crabs and Seafood
Imagine winter in Florida! If you are a stone crab lover, I presume you understand what this means- the Stone Crab season. Thanks to Billy's Stone Crab, getting the freshest stone crab is never an issue. The only thing left is to find an excellent pairing for your delectable crab claw meal. 
Wine is an excellent crab pairing, and for a good reason. It is one of the alluring drinks among seafood enthusiasts. Wine with crab makes meals more delightful, adding extra zest to the crab dish.
We advise our clients to pair crab with either red or white wines. Albarino, Rose wines, Sangiovese, and Pinot Noir top our list of wine pairings. Check out our latest guide to pairing wine with crab.
Red Wine Crab Pairings
Red wine is rich in tannins and is famous for its bold flavors. Tannins blend in well with fatty red meat, but this is not the case with seafood. However, seafood lovers can still enjoy red wine with crab, and the trick lies in choosing light varieties. Try Sangiovese or Pinot Noir, for they will complement the flavor of the crab.
SANGIOVESE
Sangiovese is famous for its red cherry flavor and is available in most Hollywood Restaurants. It is different from other red wine varieties and features cherry and plum notes. Sangiovese is soft with minimal tannins, and its fruitiness makes it an excellent pair for any crab dish.
PINOT NOIR
Pinot Noir is a dry wine with bright fruit flavors of red cherry, black cherry, and raspberries. Its mild tones make the Pinot Noir an excellent pairing for crab meat. Pinot Noir does not overpower the flavors of the meat but will highlight it due to its vibrant acidity.
White Wine Crab Pairings
White wine is the best wine with crab and seafood. It enhances the flavor of the crab meat, making it tastier. For instance, a buttery Chardonnay perfectly matches fresh cracked crab, while the fruity Pinot Gris is best paired with cold crab. For jumbo stone crab claws, Chablis and Pinot Grigio are highly recommended. 
CHABLIS
Chablis is an iconic white wine renowned for its perfect pairing with hairy crab. The wine is smooth with an expressive crispy flavor. Moreover, it is light with minimal acidity levels and is best paired with crab claws. The wine is well-balanced and will not overpower the crab flavor.
PINOT GRIGIO
Pinot Grigio is a medium-dry white wine and is a cherished grape variety. However, the sweetness depends on where it was produced. For instance, Italian Pinot Grigio is lighter, drier, and zestier with a touch of acidity.
Pinot Grigio is best paired with crab claws due to its rich fruit flavor. The wine matches the crab texture, while the meat brings out the nutty flavors in the wine.
ALBARIÑO
Albariño is a white wine grape commonly grown in Northwest Portugal and Northwest Spain. It features a citrus flavor with grapefruit, lemons, peaches, and nectarine notes. Albariño's distinct citrus flavor enriches the taste of the meat.
ROSE WINES
Rose wines can be sweet or dry; older varieties, particularly those of France and Spain origin, are quite dry. But newer Rose wines are sweeter. 
What wine goes with crab legs? Dry Rose wine is best for light meals such as salads or shellfish. It pairs well with crab legs and complements the saltiness of the meat. We recommend Chardonnay, Champagne, or Sauvignon.
SPARKLING WINES
Sparkling wines pair well with seafood. Examples include the Prosecco and the Cave Spring Cellars. Prosecco has a citrus flavor, making the crab meat more delectable. Similarly, Cave Spring Cellars features a crisp apple flavor, adding a refreshing taste to your palette. 
Billy's Stone Crab for the Freshest Seafood in Southern Florida!
Billy's Stone Crab is a popular crab restaurant and market that understands the needs of crab lovers in Southern Florida. We offer an unparalleled dining experience, including indoor and outdoor dining with full bar service. We also extend online services upon request, coupled with fast deliveries. Make sure to Contact Us if you have any questions about Seafood or Crab.
We source the crabs locally and operate two fish houses. These are located in Marathon, FL, and Summerland Key, FL, in the Florida Keys. We also understand the importance of fresh supplies, the reason why we own over 40 boats, ensuring our clients never go out of fresh seafood supply. 
We also sell many other items in the market, including filets, oysters, clams, and steaks. If wishing to shop for other goods, check out sales events at the Bayside Marketplace in Downtown Miami.
Order from Billy's Stone Crab
Are you looking for the freshest stone crabs in Florida? Visit Billy's Stone Crab restaurant or order online to enjoy a sumptuous meal from any location. Remember to familiarize yourself with the latest crab wine pairing ideas and take your dining experience a notch higher.
Image Source: NaNeLa / Shutterstock