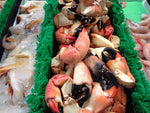 The Ins and Outs of Florida Crab Season
Crabs are tastiest when they are in season as the catch is always fresh. Depending on the crab species, it is possible to obtain freshly caught crabs throughout the year. Knowing the season for each species allows you to locate and anticipate the freshest alternatives, whether you're shopping at a fish market or dining in a restaurant.
The Florida stone crab season has been Billy's Stone Crab Restaurant's cornerstone for many years. Stone crabs are so delicious, making them one of the most preferred seafood. 
When is Florida's Crab Season?
According to The Florida Fish and Wildlife Conservation Commission, the stone crab season starts from October 15 to May 1. The Fish and Wildlife Research Institute is responsible for commercial fishing population monitoring. Additionally, it conducts year-round studies on the Florida stone crab population. 
Stone crab conservation agencies have reduced the stone crabs supply to prevent overfishing. In addition, the organizations decreased the stone crab season slightly to preserve the stone crab population.
Are Stone Crabs a Sustainable Food Source?
Stone Crabs are an enduring food source. The Florida crabbers are highly protective of the species. Only the crab's claws are plucked to protect its life. Their claws shed and regrow, much like a lizard's tail. Stone Crabs have two deadly claws, allowing them to feed and defend themselves while the lost limbs regrow.
Crabs are wild and unpredictable animals leading to their limited supply at times. As a result, we have our own fish houses with a fleet of over 40 boats in Marathon and Summerland, FL, to ensure you have the freshest stone crabs.
Stone Crab Season Facts
Here are nine things about the stone-crab season that you probably did not know. A team of master chefs have compiled exciting facts worth noting.
Soft-shell crabs are stone crabs that are undergoing molting.
Florida is responsible for 98% of all stone crabs.
The anglers only take the claws, which must be the approved length.
The giant crusher claw is the right hand as stone crabs are right-handed.
Their claws can smash about 19,000 pounds per square inch.
Adult stone crabs are favorite prey to octopi, grouper, and sea turtles, as they find them delectable.
Male stone crabs live for approximately seven years, while females live for around eight years.
Females can lay up to one million eggs simultaneously. They produce eggs in sponges containing four to six egg sacs.
The chefs recommend touching and smelling stone crabs before purchasing. Do not purchase smelly or slimy stone crabs. 
Let Us Do the Crabby Work
Stone crabs are one of the seafood delicacies offered at Billy's. "We exclusively sell fish and shellfish collected in local seas," states Billy Hershey's proprietor. "Buying locally is expensive, but the quality of our fish is unquestionably superior, as we believe our customers deserve only the finest." In addition, we have formed contacts with local anglers over the years; thus, we are confident of receiving the freshest harvest.
Billy's Stone Crabs sells only wild shrimp collected in the Florida Keys. It does not handle farm-raised shrimp from other nations. Once you've tasted our wild Florida Keys shrimps, you'll never desire the farmed version again. There is a great distinction between flavor and quality. The oysters at Billy's are from Apalachicola, while the clams come from the Indian River. Due to its authenticity, the seafood we serve at Billy's Stone Crab Restaurant is unrivaled. 
Billy's Stone Crab for the Freshest Seafood in Southern Florida!
Billy's Stone Crab Market is famous among Miami, Fort Lauderdale, and the Florida Keys residents and visitors. You can enjoy the same experience regardless of your location in Florida by ordering our seafood online and having it delivered overnight to your doorstep. 

Check out our seafood options online to make an informed decision before ordering. Contact us for any inquiries. Our dedicated customer care team responds to you promptly, guaranteeing an exquisite consumer experience.
Image Source: Thomas Barrat / Shutterstock