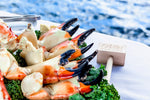 When Does Stone Crab Season Start and End in Florida?
Winter in Florida is not only known for the mild sunny weather but the eagerly anticipated stone-crab season. Since this is a limited season, the sweet white crab claw meat becomes a sought-after culinary delight that you could easily miss out on. Therefore, knowing when the stone crab season starts and ends would help you enjoy the most out of this modern delicacy. 
With Billy's Stone Crab, you cannot miss out on the stone crab season in Florida, thanks to our two fish houses in Summerland Key and Marathon Key. We also have over 40 boats to catch and supply stone crabs to our fish houses to ensure you get the freshest and highest quality stone crab. Meanwhile, continue reading to learn more about the stone crab season. 
Stone Crab Season in Florida 
According to the Florida Fish and Wildlife Conservation Commission (FWC), the official stone crab season starts from the 15th of October to the 1st of May. Previously, the fishing period ran to the 15th of May, but FWC changed it to the 1st of May to prevent overfishing. Limiting the fishing period ensures that the stone crabs remain abundant every season and allows harvested stone crab claws to regenerate. 
Claw Sizes of Stone Crabs 
Besides regulating when the stone crab season should start, the Florida Fish and Wildlife Conservation Commission also regulates the claw sizes of stone crabs that harvesters should consider. A stone crab's claw size is regarded as the length of the larger, immovable part of the claw. The harvestable legal size of the claw is 73 mm or 2 7/8 inches or greater. 
Both claws can legally be removed if they are legal size This allows the crab to use the other claw to defend itself from predators while the other regenerates. Harvesters at Billy's Stone Crabs Fisheries follow ethical standards and return crabs with smaller claws to the water. Our team makes sure to remove the claws carefully to ensure that the crab survives and regenerates the removed claw. 
Stone Crab Claw Sizes at Billy's Stone Crab 
At Billy's Stone Crab, you can get your fresh stone crab claws in our four sizes: medium, large, jumbo, and colossal sizes. Here's how they vary in size: 
Medium Size: A pound of medium-sized crab claws consists of around six or seven claws. It's perfect for a sharable plate for two people or appetizers. 
Large size: Four to five large-size crab claws equal to around a pound, making it the ideal choice for a date night. 
Jumbo sizes: Impressively large stone crab claws perfect for an entree, 3 - 4 of these jumbo-sized crab claws come out to about a pound.
Colossal size:

 

These are enormous sizes that weigh about ½ a pound each, perfect for sharing among people.
How We Collect Stone Crab Claws
Our journey to serve you the freshest stone crab claws starts with our proprietary fisheries, BSC Fisheries. They boast over 40 boats and two fish houses in Summerland Keys and Marathon Keys to ensure a daily supply over the stone crab season. Our harvesters handpick everything to ensure you get the best stone crab claws and adhere to FWC regulations. 
We also fish in the local Florida Keys to ensure that your specialty stone crab delicacy is on your plate within the least time possible. Remember, Florida Stone Crabs only last for three days when properly refrigerated. However, since you'll get the freshest claws from us, we recommend you consume them immediately to savor their quality taste. 
Customers ordering our stone crabs across the US can still enjoy the freshness and quality of your delicacy thanks to our temperature-controlled and insulated packaging materials. 
Get the Most Out of Stone Crab Season with Billy's Stone Crab 
There's no better time to enjoy freshly harvested stone crab claws than the stone crab season. Since this is a limited period, you should partner with a reliable stone crab claws supplier to maintain a constant supply of this delicacy to your home or restaurant. 
With Billy's Stone Crab, get the freshest and tastiest stone crab claws in Florida. Whether you're shopping for them from our market, ordering online, or eating them from our waterfront restaurant, you can rest assured that you'll get the finest stone crab claws in Hollywood, Miami, Ft. Lauderdale, and their surroundings. Make your online order today, or contact us today to make your restaurant reservation.