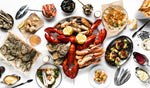 How To Plan And Cook a Seafood Dinner
If you want to create an impressive dinner menu to serve your friends and family, seafood is a great choice!
Choosing the right seafood for your dinner depends on how many people you plan to invite and the time you want to spend cooking.

Seafood cooks quickly, and most recipes are relatively simple, making it the ideal choice for a dinner party.

For a large gathering, consider a seafood boil. You can cook all your items in one large pot, making for an easy dish that is sure to make everyone's taste buds happy.
First Step - Pick Your Menu
Whether you plan to have a seafood dinner for your family or a party menu for a crowd, fish, crab, and shrimp are excellent choices. There are many different types of seafood, so you are sure to find the best option for your dinner. And, seafood is usually ridiculously easy to cook, making for an impressive meal that does not require days in the kitchen.
When meal planning, first determine the number of people who will attend. Then, choose from in-season seafood options to create a dinner plan. You should always eat fresh seafood, if possible. You can shop directly from the fish market at Billy's Stone Crab in Hollywood, FL, to get the best-quality Florida seafood available. We own and operate more than 40 fishing boats in the Florida Keys to keep our market stocked with fish, lobster, shrimp, stone crabs, and more.
If you do not live in the area, you can purchase from our market online. We ship nationwide using overnight delivery services. From our boats and fisheries direct to your home, you will enjoy high-quality seafood that is fresh and delicious. At Billy's, we ensure the quality and freshness by fishing for our products ourselves.
Once you select the items you want to serve at your dinner, consider the best cooking methods for your seafood. Different preparations can result in varying flavors and textures, making it important to learn the optimal way to cook your choices. Be aware that seafood cooks quickly, making it easy to overcook.
What Are Some Top Seafood Dishes?
Planning your seafood dinner depends on various factors. If you are serving a crowd, steaming seafood and serving it chilled is an easy way to create a memorable feast. You may want to broil or fry fish for an impressive, delicious, and nutritious meal for smaller dinners. Some seafood ideas for your next get-together include:
Seafood tower with steamed clams, mussels, crab legs, lobster tail, and shrimp.

Shrimp or seafood boil.

Ginger glazed mahi-mahi marinated in honey, soy sauce, and balsamic vinegar.

Broiled red snapper with a fennel and citrus salad.

Chilled stone crab

with Billy's signature mustard sauce.

Grilled mackerel with tomato and caper salsa.

Bacon-wrapped

scallops

.
What Is a Good Dinner Menu for Guests?
Consider a lobster boil, shrimp boil, or seafood boil for a dinner party. You can make it country-style by adding smoked sausage, potatoes, and fresh vegetables, like corn and green beans. Boiling seafood in this way creates an excellent meal that is relatively hands-off to make and only dirties a few large pots. You can cook everything together, making it a simple process to prepare and get to the table. Serve it with salads and bread for a complete and hearty seafood meal everyone will love.
Seafood Boil Shopping Tips
For a shrimp boil, purchase high-quality shrimp from a reliable source, like the fresh fish market at Billy's Stone Crab. We operate two fish houses - one in Summerland Key, FL, and one in Marathon, FL. As the fisher, we hand-select everything that is in our market, guaranteeing that you get the freshest seafood every time. It is best to choose raw shrimp with the shell on for your boil. Plan to buy half to one pound of shrimp per person.
For a lobster boil, plan to purchase around one and a half to two pounds of lobster per person. This amount will yield six to ten ounces of meat per guest. If you prefer to add variety to your seafood dinner, make a mixed boil using lobster tails, clams, shrimp, and crab legs.
How To Prepare a Seafood Boil
Part of your meal planning includes making sure you have the right tools for your party. If you host a large gathering, you may want to consider holding it outdoors for easy cleanup. For a successful get-together, ensure you have the following:
A large stockpot:

You will need to have more than one pot or a super-large pot to cook everything for a big group.

A stockpot basket

.

A large mesh scoop

.

Crab/lobster crackers

or kitchen shears.

Pails or bowls

for discarded peels and shells.

A table covering:

Choose a tablecloth you can throw away after use, or use craft paper or newspaper to protect your table.

Lots of napkins

or paper towels.
To cook your seafood boil, follow these steps:
Prep your ingredients by halving the corn, scrubbing the potatoes, cutting the sausage, and thawing any frozen seafood items.

Prepare your seasoning mixture.

Fill your stockpot with water. Add your seasonings, then bring to a boil.

Once boiling, add the potatoes, cover, and boil gently for 15 minutes.

Next, add the clams and sausage, cover, return to a low boil, and cook for 5 minutes.

Remove from heat, then add your shrimp, crab legs, lobster tails, and corn. Cover the stockpot and let it sit for 15 minutes.

Set your table with bowls of melted butter where everyone can reach to dip their seafood and vegetables.

Drain the cooked foods and spread them down the center of your table, so all your guests have easy access.

Eat your dinner right away, as seafood is best when just cooked.
What Goes With a Seafood Dinner?
You can serve your seafood boil as it is, or you can add more side dishes if you prefer. If you'd like additional sides, consider sourdough bread, garlic bread, a green salad, asparagus, green beans, potato salad, or coleslaw.
Why Choose Seafood Menu Over Chicken or Beef?
Protein is crucial for various bodily functions, including tissue growth, brain health, immune function, and nervous system health. Chicken, beef, and seafood are all excellent protein sources. Seafood is high in protein but lower in saturated fat than beef or chicken.
Seafood also contains many vitamins and minerals that can decrease the risk of strokes, hypertension, coronary heart disease, and heart attacks if eaten regularly. Fish is high in Omega-3s, a type of unsaturated fatty acid that may help reduce inflammation and prevent heart disease.
Experience the Best Fresh Seafood in the Florida Keys at Billy's Stone Crab
Planning a seafood dinner for family or friends does not have to be an ordeal. Follow our tips for many quick and easy options that result in an impressive feast. If you choose the fresh, delicious seafood from our market, you are sure to please everyone at the table. At Billy's, we handle our seafood every step of the way, ensuring the highest quality products for you. Visit our market or order online today to host a dinner everyone will enjoy.
Featured Image: Jocar Photography/Shutterstock